Local Attractions
Tobermory, Ontario  Canada.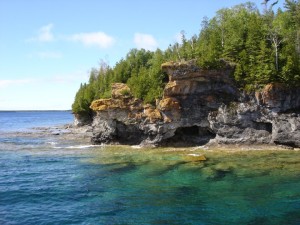 Tobermory is a quiet tourism town located at the tip of the Bruce Peninsula approximately 4 hours north of Toronto. Tobermory is world famous for its two natural freshwater harbours, numerous shipwrecks, two National Parks with thousands of acres of undisturbed beauty and several historic lighthouse stations. The areas unique beauty attracts thousands of visitors each year who enjoy experiences such as Flowerpot Island, scuba diving, hiking the Bruce Trail, stargazing, The Bruce Peninsula Orchid Festival and much more!
 Little Tub Harbour is located in the centre of Tobermory's Business section. The harbour is surrounded by floating docks, wooden boardwalks and paving stone walkways that interconnect the restaurants, shops and accommodations. During the summer months the harbour is a flurry of activity as people in boats, cars, bicycles and on foot explore all this gorgeous town has to offer.
Big Tub Harbour is located just north of Tobermory's business section. Big Tub is a popular destination for site seeing and scuba diving as it is home of two 19th century shipwrecks. The 'Sweepstakes' shipwreck (1885) and the 'City of Grand Rapids'shipwreck (1907) lay at the head of the harbour in approximately 18' of water. Big Tub Lighthouse (1885) marks the entrance to Big Tub Harbour, Canada's deepest freshwater harbour.
Just 6.5 kilometers off the coast of Tobermory in Georgian Bay lies Flowerpot Island, one of Canada's most fascinating natural attractions. Flowerpot Island is famous for its natural sea stacks, the "flowerpots", as well as its caves, historic light station and variety of rare plants. Accessible only by boat, Flowerpot Island is the only island in Fathom Five National Marine Park with campsites and hiking trails. It is a great place to spend half or a full day exploring the island, viewing the scenery, picnicking or swimming.
Tour Boats
Bruce Anchor Cruises is located at the very end of Highway 6 in Tobermory and operates within Fathom Five National Marine Park which occupies some of the most pristine waters in the Great Lakes. Fathom Five is home to numerous historic light stations, over twenty known shipwrecks and Flowerpot Island. Their extremely unique and modern glass bottom vessels depart Tobermory on an adventure through Fathom Five every 40 minutes during the summer months! Within 5 minutes of departing the dock you will view two 19th century shipwrecks resting just a few feet below the surface. From there you pass by Big Tub Light (1885) on our way to Flowerpot Island passing by other islands en route. As we cruise around Flowerpot Island you will view the historic Flowerpot Light station, the light keeper's homes, the Flowerpot rock formations and many unique features of the island visible from the water. Once the tour boats reach Flowerpot Island you have the option to disembark to explore the island on foot or to remain on the vessel for the 10 minute ride back to the dock in Tobermory.
Local Restaurants
Tobermory hosts many excellent dinning locations. If you are looking for a pub experience the Crowsnest and Bootleggers pubs both serve great food and have many fine beers on tap. Craigies Restaurant and the Fish and Chip Place are great places to get some fresh whitefish and chips. Tobermory Princess Hotel offers an excellent dining experience also. Leeside Restaurant has a great menu and overlooks the Chi-cheemaun ferry dock and the Ancient Cedars Café located at Cornerstone Golf Club serves hearty and healthy locally sourced foods. Menus and literature are available in our office to aid you while choosing your dining experience.
A spectacular experience! Journey from Tobermory to Manitoulin Island across Georgian Bay on a 365' long passenger and car ferry capable of carrying 143 cars and 638 passengers. The Chi-Cheemaun Dinner Cruise is an amazing fine dining option offered about the ferry during the crossing.
If you love to hike then you have come to the right spot! Tobermory has several KM of hiking trails and is the end point of the Bruce Trail that extends along the Niagara Escarpment from Queenston, Ontario north to Tobermory, Ontario.
There are several points of access to many different trails, the levels of difficulty range from beginner to experienced. Maps and literature about the trials are available at the parks and local chamber of commerce as well as our office. Please find the links below for more helpful information:
Bruce Peninsula National Park Trail Information
Flowerpot Island Trail Information
Kayaking and Canoeing
Kayaking and canoeing are very popular activities for visitors to Tobermory and surrounding area. Thorncrest Outfitters, G+S watersports and Big Tub Marina rent canoes and kayaks from which you can explore Lake Huron and Georgian Bay. Please note that paddling in the open waters around Tobermory is only recommended for those who are very experienced. To paddle on a smaller body of water such as Cameron Lake contact Cedar Grove Outfitters just outside of Tobermory.
Diving and Snorkeling
Tobermory is known around the world for it's crystal clear waters and numerous shipwrecks. It has also been crowned as the 'Scuba Diving Capital of Canada' so naturally it's the place to get in the water and check things out! Whether you are an experienced scuba diver or are just trying it for the first time our local dive shops GS watersports, Divers Den and Teak Bay Marine will allow you to safely explore the waters of Fathom Five National Marine Park and surrounding area.
Swimming
There are several awesome beaches and access points that you can spend the day relaxing or just jump in the water. Dunks Bay and Singing Sands are sand beaches that you can make yourself comfortable and spend the day relaxing. The Gap, Big Tub Light and The Tugs are rocky beaches where you can jump right into up to 50' deep crystal clear water!